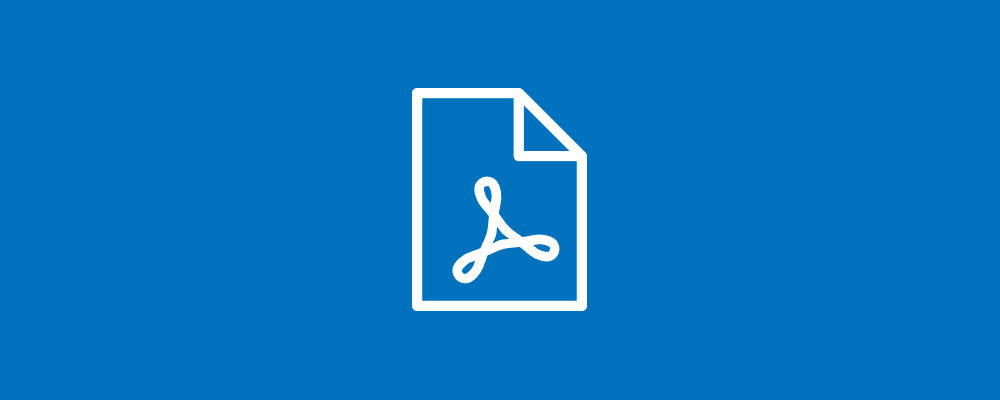 Overview
Portable document format, or PDF, is a file type that, according to its creator Adobe, is "a reliable way to present and exchange documents – regardless of the software, hardware, or operating systems being used by anyone who views the document."
PDFs can be viewed using Adobe Acrobat Reader and can be created in a number of programs, such as Google Docs, Microsoft Word or Adobe Acrobat Pro.
As does the UK Government Digital Service, ProudCity recommends publishing information to the Internet as web pages (also known as HTML) and not PDFs:
Compared with HTML content, information published in a PDF is harder to find, use and maintain. More importantly, unless created with sufficient care PDFs can often be bad for accessibility and rarely comply with open standards.

…

The default should be to create all content in HTML. If you can't avoid publishing a PDF, ideally it should be in addition to an HTML version and the PDF must meet accessibility standards and archiving standards. We hope this post will help publishers explain the problems with PDFs to their colleagues and support moving towards an HTML-first culture.
UK GDS shares great reasons why PDFs pose problems for users:
They do not change size to fit the browser
They're not designed for reading on screens
It's harder to track their use
They cause difficulties for navigation and orientation
They can be hard for some users to access
They're less likely to be kept up to date
They're hard to reuse
ProudCity and PDFs
ProudCity supports PDFs through our media library and ProudCity Documents features.
Notes:
Only the ProudCity Document title is searchable in our standard plan, whereas full web page content is searchable (and free).
The title of the document name or web page is not the same as the title of the PDF.
Do's and don'ts
We realize that PDFs are entrenched in government organizations and processes. Phasing out PDFs is a process so, if you must use a PDF, here are some do's and don't.
Do
Publish web alternative versions to your PDFs.
Publish your PDFs using ProudCity Document so that they are more searchable, secure, trusted and responsive.
Use web forms instead of PDFs.
If using PDFs for forms, ensure they can be completed within the document.
Name your files in a clean, consistent way.
Use clear, plain titles and labels.
Review document meta information and remove personally identifiable information.
Don't
Publish documents in PDF only format.
PDF photocopies.
Resources